Today's Guardian included an article by Martin Kettle from Bayreuth, declaring that:
Our MPs are Lenininst in their belief that politics is all and excludes a rich artistic life. It's a sign of a failed society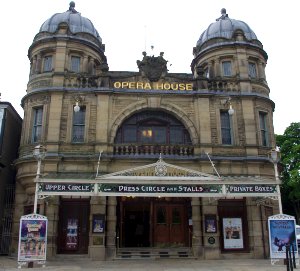 Well, I can report that at least in deepest Derbyshire, things aren't so philistine. The opening night of this year's Buxton Festival was graced by the new (Labour) Chair of Derbyshire County Council, who far from seeming embarrassed, flaunted his allegiance with a striking red jacket. The fare may have been Saint-Saëns and Gounod rather than Wagner, but as someone who tends to Rossini's view of Wagner ('great moments but dull quarter hours'), that to my mind was no bad thing. Lenin may not have dared to listen to Beethoven often (poor man) but it seems he also liked plays – last night I saw Ostrovsky's Too Clever by Half in a suitably manic production at Manchester's Royal Exchange Theatre and discovered that in 1918 Lenin attended and admired the Moscow Art Theatre production starring Stanislavski, seeing it 'as a portrait of the moral and intellectual failings of the society created under the Tsars'. Perhaps that's what our politicians can do best for culture – provide the butts for satire?
As befits one of the birthplaces of Chartism, Manchester has long been a place where culture and politics mix. For many years the concert hall, home to the Hallé Orchestra, was the Free Trade Hall, built to commemorate a notorious attack on peaceful protest (which led, amongst other things, to the Manchester Guardian and Shelley's Mask of Anarchy). The hall was the venue for both high culture (Barbirolli etc) and wrestling. Its replacement, the much more comfortable Bridgewater Hall, is a wonderful concert hall but rather tamer.
As for politicians, others here have already indicated that a few cabinet ministers have betrayed a liking for Wagner. Amongst them is Michael Gove, the minister most likely (pace Martin) to lace his speeches with quotations from (in his words) 'the best that has been written and said'. If that sometimes means misquotations from Keats (it's 'Beauty is truth, truth beauty,' Michael: and you an English graduate!), I suppose we should be grateful. Mr Gove has even shared his admiration of Antonio Gramsci and declared in the Guardian's own pages this week that 'classical Marxists support free schools because they embody the ideal of the soviet, a self-managing institution run by workers in the wider public interest'. Such erudition, you see, Martin! What would your old Dad have made of that? I suspect he might have pointed out that the governance of free schools is hardly as open and free as a soviet, or even one of those local authority schools the Secretary of State appears to despise, despite his nominal responsibility for the education of all students in England. I certainly hope Professor Kettle would have seen off such dubious claims to cultural eclecticism.
Having just posted my two penn'orth to Comment is Free, I spotted that tomorrow's paper will include a number of letters about the Secretary of State's claims in Thursday's edition. These include Professor Norman Thomas:
If free schools are doing well (except for some) because they are free from local authority control and can decide things for themselves, does that mean Gove will now introduce a bill bringing the national curriculum to an end instead of extending it, as he currently proposes, even including pressure on how to teach reading – by synthetic phonics? The national curriculum does not have to be taught in free schools or academies, any way, so why impose it on local authority schools?

Surely a Marxist of Mr Gove's intelligence cannot be so confused as to advocate freedom for schools and at the same time deny it.