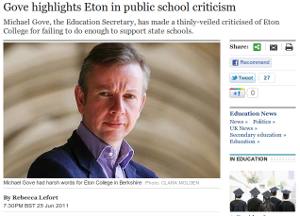 The Telegraph has now found a much more flattering photograph of the Education Secretary – but its proofreading has, alas, not improved since (with sorrow) we drew attention to its deficiencies some time ago here and here. There has also been some debate amongst the anguished (but usually polite) commenters on the Telegraph site about the quotation: is it a turkey, is it Spider-man or is it the Bible? Meanwhile, Steve Bell seizes on the image to portray the Education Secretary as a mortarboarded Spider-man in today's Guardian.
Not far below the warmly lit portrait of a cloistered Michael Gove we read:



Oh dear – and this in the paper of Simon Heffer. As if that weren't bad enough, the awkwardly worded quotation came in for scrutiny. Telegraph_Reader wrote:
Perhaps Gove was being purposefully daft, but I think the quote is actually from the Bible, or a paraphrase thereof. A quick google suggests I am probably thinking of Luke 12.48:
From everyone to whom much has been given, much will be required; and from the one to whom much has been entrusted, even more will be demanded.'
Purposefully daft or not (perish the thought!), Mr Gove (or his clever-ironic speech writer) would seem to have been thinking of the final lines of the film of Spider-man:
Peter Parker: [voiceover] Whatever life holds in store for me, I will never forget these words: "With great power comes great responsibility." This is my gift, my curse. Who am I? I'm Spider-man.
Perhaps the conversation next day in the Department went something like this:
Mr Gove, you read English at University – please tell us who found that quotation for you and we'll sack them. And we'll have at word with the Telegraph to make sure they send the intern who checked the story back to her parents in the Home Counties.
Goodness, those Telegraph readers know too much! I was just trying to inject a little wit and a populist touch for the journalists and to amuse the Headmasters – not easy, you know, an assembly of Beaks can be quite scary!
Yes Minister – sorry, Secretary of State – but someone's pointed out it's rather like the parable of the talents in the Bible. Possibly uncomfortable reading, that book; you know: 'Blessed are the poor, the meek shall inherit….'
No, stop – meek, that's just right! I've just reminded teachers they should meekly accept paying more and working longer for reduced pensions! And look: even today's Guardian approves of my style: 'Striking rhetoric from Michael Gove'.
Ah yes, sir, but I suspect that may also be the rhetorical device of irony – or just an old-fashioned Guardian pun. And I fear Steve Bell is now drawing you as some kind of cross between Spider-man, a bat and Mr Gradgrind. I'm not sure the PM will see this as good PR, as he's wont to say.