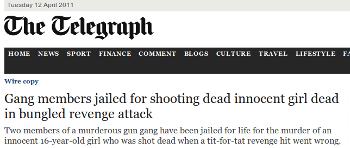 Thanks to the excellent Substuff and Peter Melville in today's Guardian for these comic – and tragi-comic – clangers from two of our finest quality broadsheets. The Grauniad retains its (now surely undeserved) reputation for typographical infelicities – but the Telegraph, that home of grammatical rectitude and Simon Heffer? What will become of us? And with the Telegraph's recent crime against chidren still fresh in our minds!
'You couldn't make it up' update, 14 April: Today's Guardian carries a confession about their own report on the trial that featured in the Telegraph article shown here:
In early editions, the photo caption that accompanied a report of the jailing for life of two members of an east London street gang convicted of the murder of a girl of 16, Agnes Sina-Inakoju, contained the solecism that she "died 36 hours after being killed". As the text made clear, she died in hospital 36 hours after being shot.