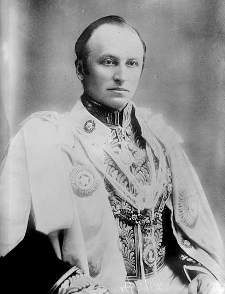 Will Gordon, David or Nick weep on failing to become Prime Minister? I suspect they'd consult their image consultants first. Yet one noble Lord did, it seems, cry when his summons didn't, after all, mean being asked to form a government – as I learnt during a visit last week to Montacute House. In addition to the portraits of Elizabethan and Jacobean worthies, the house has Curzon Room, named after the former Viceroy of India who rented the house with his mistress, the romantic novelist Elinor Glyn, 'enduring,' the National Trust poetically puts it, 'Arctic temperatures to stay by her man's side.' Thus inspired, the NT's writer continues: 'But she couldn't stop Curzon's feelings cooling along with the weather, and knew the frost had well and truly set in when she read of his engagement to Mrs Alfred Duggan in the Times.' This cruel treatment rather undermines the same writer's claim that 'We all suffer our disappointments in life, but perhaps not so acute as George Nathaniel Curzon.' Really? Did they ask Ms Glyn about his sin or only care about hers?
I guess not becoming Prime Minister is a blow, especially when you've gone up to London on purpose. For although there was no telephone at Montacute in 1923, when a telegram arrived, 'the supremely confident Curzon' travelled up to London with great expectations that he would become the next Prime Minister, only to find that Stanley Baldwin had got the job. It seems the most prominent reasons were that Curzon's character was objectionable (they must have heard about his treatment of Ms Glyn – or taken against him in person), and that it was inappropriate for the Prime Minister to be a member of the House of Lords. The noble Lord was said to have burst into tears on hearing the news. Or, to express it in doggerel:
Curzon cried when not selected
Trouble was he weren't elected
Even Kings must succumb
To the voter's rule of thumb
And so it will be on May 6th – unless, of course, we have a hung Parliament, a prospect that is causing the chattering classes great excitement.
Writing this, I came across this Balliol rhyme about Curzon, 'a piece of doggerel which stuck with him in later life':
My name is George Nathaniel Curzon,
I am a most superior person.
My cheeks are pink, my hair is sleek,
I dine at Blenheim twice a week.
And so it that I seem to have stumbled into an imitation of the form. Well, it's bad enough….
Photograph, from US Library of Congress, taken from Wikimedia Commons