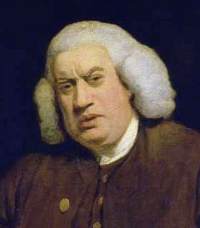 Hot on the heels of the announcement of the abolition of the QCDA comes publicity for a trendy new GCSE English course that allows the papers to link President Obama with, according to taste, Eddie Izzard (and Jonathan Ross) or Ronnie Corbett (and Ross again). Well done, OCR; as you say, it's about image (and the students might benefit too):
This is an invaluable opportunity to give learners more control over their self-image and thus their lives. They'll become more conscious of which registers are more appropriate in which scenarios, making them more likely to succeed when it comes to influencing and negotiating in everyday life, their education and the world of work.
If QCDA won't protect the country from such stuff, who will? Just in time, the Times announces that 'an Academy of English is being formed by the Queen's English Society, to protect the language from impurities, bastardisations and the horrors introduced by the text-speak generation.' 'Made up of professionals, academics and self-confessed pedants,' they've decided we need an equivalent to L'Académie Française. Furthermore, 'the academy is not shunning the modern world: it has a website'. It includes, you'll be pleased to know, a section on the 'tragic failure of the British education system (and the teachers that it produces) to meet the needs of our children'. I am a little puzzled, though, that each web page bears a strangely capitalised and punctuated footer: 'Website Design by "SCOTT"' and that Page One is near the bottom of the contents list. Never mind, it's only ephemera, like text-speak….
Inevitably, the Times article headlines this 'Pedants' revolt'. Read it online while you can, before the paywall shuts us out – and the accompanying debate 'Do we need an Academy of English?' between the chairman of the Queen's English Society and the chairman of the Spelling Society, 'which aims to promote remedies to improve literacy, including spelling reform'. Enjoy the comments in the online discussion – and don't stop to wonder why the Times didn't ask anyone in education or from a university language department about this. That's left to today's Guardian, where John Mullan from University College London writes engagingly about the folly of preserving English in aspic. For those who want to learn about the realities of language teaching, there's a research project on teaching English Grammar, for example, also from UCL – English teachers can find out more about it at the forthcoming NATE Conference.