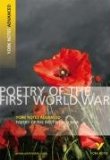 An email from a school this week asked for 'poetry which expresses the humour of the infantry during the Great War'. I pointed out that though there are many books of war poetry, humour doesn't get much coverage in the standard anthologies. There is of course the sardonic humour of someone like Sassoon in 'The General'. Kipling's 'Epitaphs of War' are often sombre but also contain some sarcastic outbursts. (It would also be very illuminating for students to find out about Kipling's personal involvement in the war effort and its aftermath.) You can read all his 'Epitaphs' online in the brief selection of poems I've put online here; they include background notes based on my volume in the York Notes Advanced series.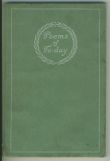 There is a good range of poetry in Martin Stephen's anthology Never Such Innocence. He includes a lot of material that isn't otherwise readily available in print, such as the anonymous 'When this blasted war is over' (to the tune of 'What a friend we have in Jesus'). As for 'fun', try Rose Macaulay's 'Many Sisters to Many Brothers' – she wasn't a soldier but that's the point. She writes: 'Oh, it's you that have the luck, out there in blood and muck…. But for me … a war is poor fun.' It also features in Stephen's collection, though I first came across this in a friend's Second World War utility edition of Poems of Today, shown here, which indicates how popular this anthology for 'boys and girls' had remained since it was first published in 1915. You can find the text online at Project Gutenberg.

There's plenty more online, of course. A good place to start is The Muse in Arms from 1917, 'for the most part written in the field of action', which is on the First World War.com site. A recent CD The Pity of War contains both music composed during the First World War by Elgar, Janacek and Debussy and a second disc of Wilfred Owen letters and poems read by Samuel West, interspersed with wartime songs – both sentimental and, at times, comic. (If the Amazon copies seem expensive, try the Orchid Classics site, where you can also find out how to download the album.) There are many more Great War links on the Literary Connections First World War pages.