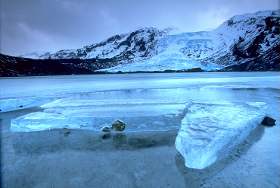 A journalist commented a week ago that although we knew that the volcano Eyjafjallajökull in Iceland was causing the cancellation of flights, we didn't know how to pronounce it. Well, we do now! Chris Warren, whilst still delayed in Japan, has gained exclusive access to a top-flight linguist (his brother, Professor Nicholas Warren of Fukuoka University, Japan) and can reveal, exclusively, here that Eyjafjallajökull is pronounced AY-ya FYA-tla YEUH-kutl. Or, to put it another way: [ei.ja,fjatl.a'jœ.kʏtl]. It means, literally: 'island mountains' glacier'. Amongst other gems imparted by the learned Professor Warren is the nugget that, in English 'the -s- in island was inserted because of folk-etymological association with isle from Old French from the Latin insula (compare this with the Icelandic eyja).' Ever idiosyncratic, the English, eh?
Meanwhile, back in England, beside the fells (Icelandic fjalla, Old Norse fiall, fjall 'mountain, rock, barren plateau') of the High Peak, the political scene seems to be subject to earthquakes of its own, as the tectonic plates of two-party politics are all shook up. As Marina Hyde puts it in today's Guardian: 'For those of us perfectly happy to concede we haven't a clue at the best of times, and merely hazard this sort of cobblers in exchange for beer tokens, the sense of discombobulation is delicious and thrilling.' Furthermore, there's an interesting account by Ian Jack of his visit to Somerset to meet the Rees-Moggs who featured in an earlier post.
Photograph by Andreas Tille from Wikimeida Commons, published under the Creative Commons Attribution 3.0 Unported licence.